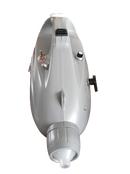 Description
LIMITED STOCK AVAILABLE TO SHIP IMMEDIATELY - 
Special Order Item - Not eligible for return or exchange
The Clinic Fogger is versatile enough to be used for all clinic disinfection protocols.  This unit produces 10 - 40 micron  aerosolized particles that are suspended in the air left to drift and settle.   The small particles are effective at reducing viral loads in the air and seep into surfaces very well.  Fogging is the best option for treating air and surfaces with Pūrkil Bio™
In contrast, our other application option, the eMist Electromagnetic Sprayer, is the ultimate solution for laying down even coverage of chemicals for surface cleaning or disinfection.  The eMist does not treat air, only surfaces.  The eMist produces 75 micron particles that are electrically charged making them "want to be grounded" by attaching to surfaces with magnetic-like attraction.  The particles form a very fine spray that is left to evaporate. With Pūrkil Bio™ there is no need to wipe surfaces after application.
Both solutions have been utilized in Health Care for many years.
Clinics may elect to implement different protocols to reflect current environmental conditions.
Protection L1 
Complete fogging prior to opening, mid-day, and at closing  
2 minutes per operatory x 3 + common areas and bathrooms
Protection L2 
Complete fogging prior to opening and at closing 
2 minutes per operatory x 2 + common areas and bathrooms

Enhanced        
Add supplemental operatory fogging between patients  2 minutes per operatory
Clinic Fogger Pros     
fully adjustable  particle size from dry to wet fog.
flow rate fully adjustable
fast when fogging the entire office - less than 10 minutes on average

Battery powered design prevents cross contamination via power cord.
Clinic Fogger Cons    
moderately noisy.  much like a vacuum cleaner
may not be suitable for between patient fogging due to noise
Specifications :
Cordless
voltage                 48V
Tank size             4L
Power                  480W
Spray Volume       0-1200 ml/min (adjustable)
Droplet size          10 - 40 microns (adjustable)
Working time        3 hours
net weight            6.67 KG including battery
Speed                  Variable
Spray nozzle        3 (small, medium, large)
Battery                 Lithium ion rechargeable
Charing time         3 hours
Charger               Wall charger
Payment & Security
Your payment information is processed securely. We do not store credit card details nor have access to your credit card information.