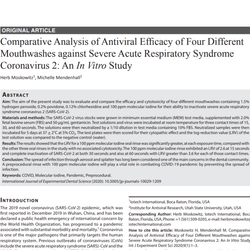 University Study: Molecular Iodine Rinse Completely Effective in 30 sec against SARS CoV-2
Aim: The aim of the present study was to evaluate and compare the efficacy and cytotoxicity of four different mouthwashes containing 1.5% hydrogen peroxide, 0.2% povidone, 0.12% chlorhexidine and 100 ppm molecular iodine for their ability to inactivate severe acute respiratory syndrome coronavirus 2 (SARS-CoV-2).
Read Full Article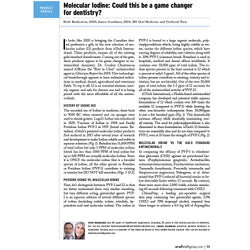 Molecular Iodine: Could this be a game changer for dentistry? Oral Health Journal , March 2020
This safe, effective, natural and organic antimicrobial is showing real promise to becoming the chemotherapeutic/preventative agent of choice in the dental profession.
Read Full Article